What will Affect Plastic Rubber Keypad Actuation Force
Views:66 Author:Jessica Hong Publish Time: 2019-02-11 Origin:Site
Plastic rubber keypad may encounter one problem: bad actuation force. Silicone keypad with bad actuation force may get the rubber buttons stuck or cause bad tactile feeling. What is actuation force? Actuation force is the force that the silicone rubber buttons bear on to make conductive part contact with the PCB. This force will cause silicone button webbing curved. To make sure rubber button has a good toucing feeling, the actuation force for plastic rubber keypad should be controlled at 120-180g.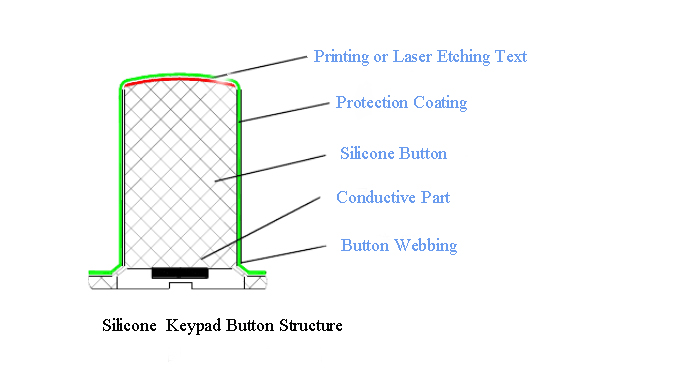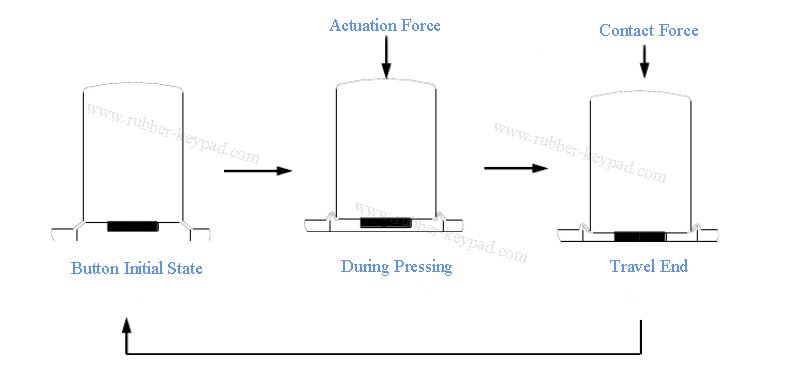 Plastic Rubber Keypad Working State
There are many factors that will affect silicone button actuation force. Experienced rubber keypad manufacturer will take all factors into consideration to make sure rubber button with good working conditions.
1. Button Webbing

Button webbing is most crucial to actuation force. Thicker silicone button webbing will cause larger actuation force. While making the rubber keypad molding, thiner button webbing is done first. If keypad actuation force can not meet demands, we can thicken the webbing later to increase silicone keypad actuation force.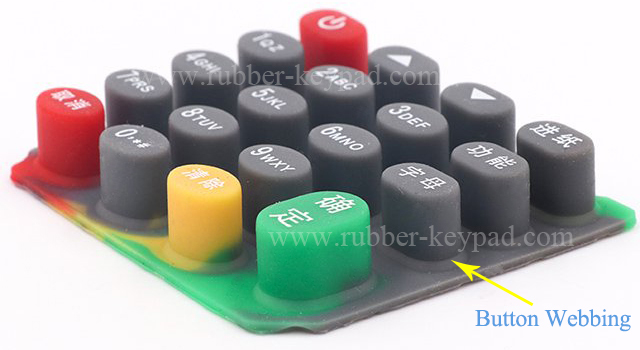 2. Rebound Resilience of Raw Material
Most rubber keypads are made of silicone material is because of its good rebound resilience. Rebound resilience is the force that help silicone buttons rebound from PCB, which can also be called return force. Rebound resilience of silicone is better than other rubber material. Material with good rebound resilience will have better actuation force.
3. Hardness of Silicone
The hardness of silicone will aslo affect button actuation force. Silicone hardness for keypad generally is 50-60 Shore A. The harder the material, the larger actuation force of keypad is. If the keypad have thick coating, softer silicone is recommended.
4. Protection Coating
Protection coating includes oil coating and PU coating, which aim to protect surface symbols and text freom abrasion. But actuation force will increase about 30-35g if rubber keypad is coated.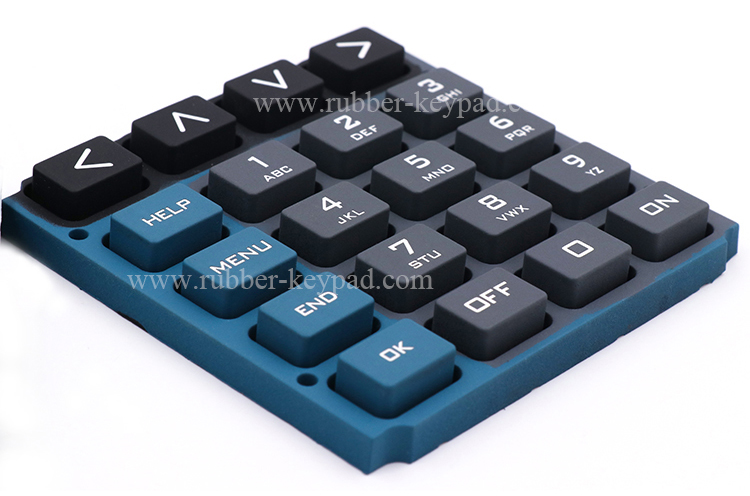 Rubber Button Cover with Color Coating and PU Coating
5. Material Placing in Molding
Before compression molding, we need to place exact silicone to the molding cavities. Silicone will be divided into several same weight pieces. The silicone piece weight is set according to plastic silicone keypad weight. If there are too much silicone, actuation will also increase.