Self Adhesive Gasket & Seal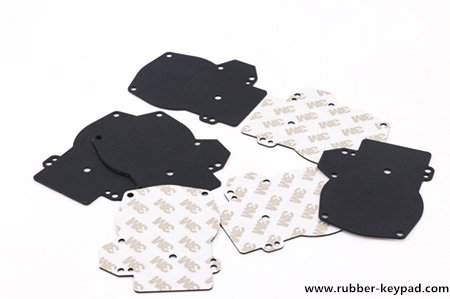 Self Adhesive Rubber Gasket, also called
Adhesive Backed Rubber Sheets & Backing Adhesive Pads, which is made of elastomeric silicone rubber materials with backed & double side tapes & films by die-cutting. One of popluar adhesive tape is 3M backed adhesive tape & film.
Rubber Materials for Backing & Backed Adhesive:
EPDM, Nitrile & Buna-n, Neoprene, Silicone, Natural Rubber, SBR etc. (Notes: Some rubber materials is not suit to sticky & backing adhesive tape.)
Our production experience and knowledge for different rubber materials with backed self adhesive tapes:
1. Backing self adhesive silicone sealing gasket & pads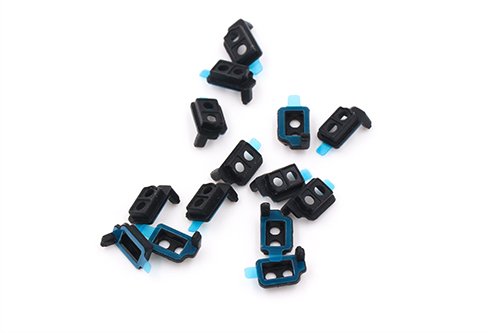 for smart cellphone, medical device, machinery, remote controlle and electronic products etc.
Self Adhesive Silicone Sleeves & Grips
Self Adhesive Silicone Keyboard & Membrance Switches
Self Adhesive Silicone Housing Cover
Self Adhesive Silicone Rubber Labels & Tags
Backed Adhesive Conductive Silicone Rubber Gasket
2. Adhesive backed EPDM rubber gasket & sheets
3. Self Ahesive Nitrile & Buna-a Rubber Seals
4. Neoprene Adhesive Rubber Seal & Sheets
Silicone Rubber Sealing Gasket with backed adhesive Tape Application:
1. Silicone Rubber Gasket with backed adhesive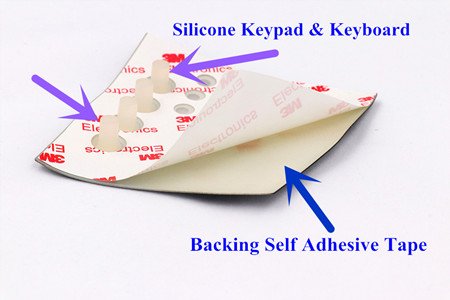 tape, in aim to improve electronic products or
& device dustproof & water-proof functions.
Waterproof and anti-dust grade like:
IP55, IP56, IP57, IP65, IP66, IP 67 etc.
2. Self Adhesive Conductive Rubber Gasket & Sheets, which is aim to reduces or eliminates the EMI & RFI noise which is often associated with electronics.
3. Adhesive Backed Tape also used in Access Controls, Silicone Keypad & Membrane Keyboard or Membrance Switches etc.
4. Self Adhesive Silicone Rubber Sheet & Pads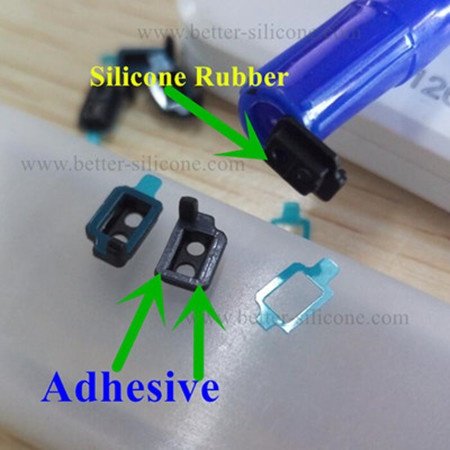 also used as trademark or silicone sleeves & cover, which surface is generally coated
with matte smooth oils for good feels and
dust-proof.
Backed Self Adhesive Silicone Rubber Sealing Gasket Manufacturing Process:
1. Making Silicone Rubber Compression Mold.

2. After finishing mold-making, producing silicone rubber samples for test. If dimensions are ok, sending the whole piece of silicone products to factory for dealing with silicone glue & tapes.
Notes:
If big silicone rubber products, burring firstly, and then deal with silicone glue.
If small silicone rubber parts, generally dealing with silicone glue firstly, and then choose fixture tooling
( die-cutting) to burring. Or removing the big barbs, and then deal with the silicone glue, finally fixture tooling (die-cutting) to de-burring.

3. Knowledge of Self Adhesive Backed Tape Process
a. Paste double sided silicone 3m tape with the anti-adhesive sides of anti-adhesive paper;
b. Cutting the inner round holes by cutting die;
c. Silicone products are coated with silica gel treatment agent; (Notes: silica gel treatment agent should be even/ well-distributed; and should not coat on the surface of silicone products)
d. Accurate placed stick double sides silicone 3m tape, the surface of 3m tepe should be even.
(Notes: should not be a little off; and should not have bubble.)
e. Next Die Cutting for dis-burring & remove silicone rubber flashing
f. After finishing die cutting, check if have less materials or not clear cutting.
g. Test the finished products by 3D projects and amplification instrument
h. Before packaging, check the silicone glue one by one.