Analysis of Complicated Silicone Keypad Buttons Manufacturing Technology
Views:85 Author:Jessica Hong Publish Time: 2019-09-11 Origin:Better Silicone
Silicone Keypad Buttons Manufacturing Process
Silicone keypad buttons can be made with complicated processing technology to have beautiful appearance and wonderful backlight effect. The button in following picture is made of silicone material. Customer requirements are as below
The whole keypad cover should be black background.
Five translucent silicone buttons as light pipes.
A black rubber button with white symbol which is able to transmit light, and a opaque red button key with white symbol.
White rim for the small square window that is able to transmit light.
The black key and red key should look like crystal.
3M Adhesive on black background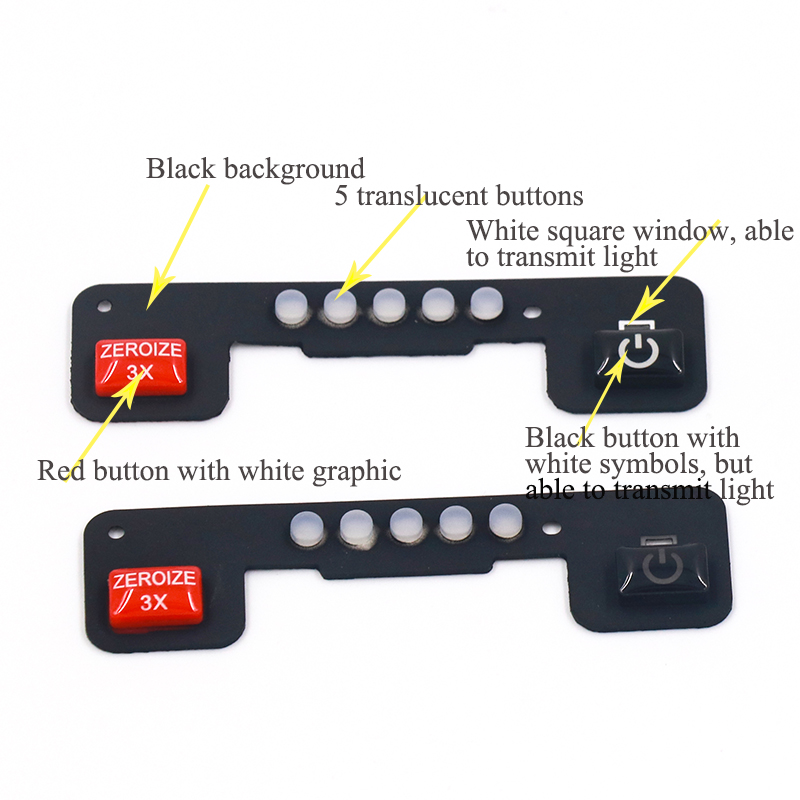 Let's take a look on how many rubber keypad manufacturing steps need to be done to meet these requirement.
Step 1
We need to mold a translucent button pad with a red key. This red key is opaque, so we can directly use red color silicone to cure with clear silicone. Transparant button pad is prepared for light transmitting.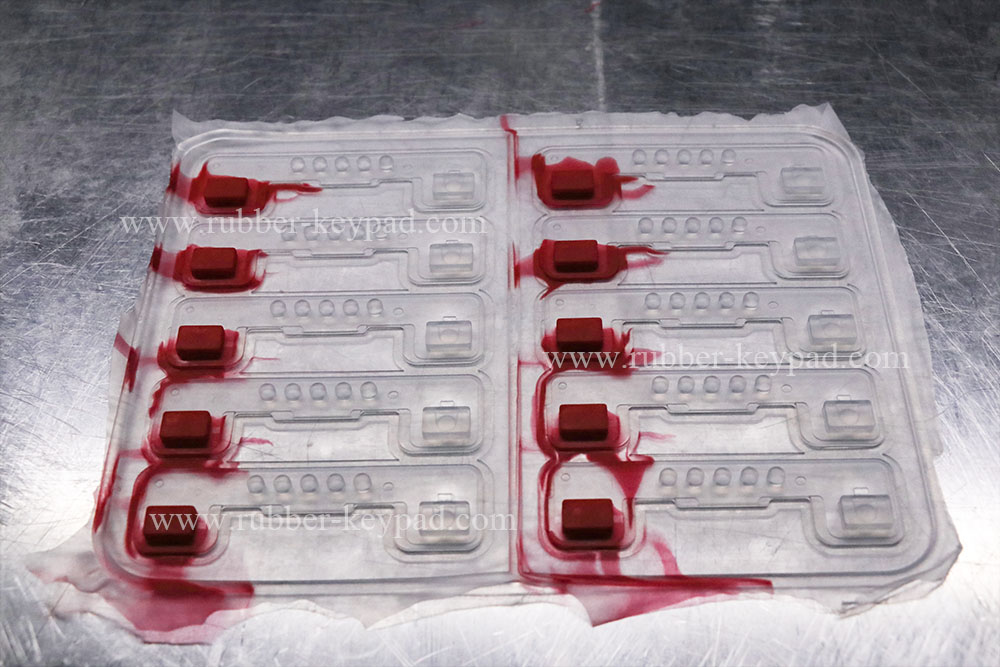 Step 2
To cover these five small round buttons and the red key with keycaps. Then coat the clear keypad with white color. After white color coating finish, cover a black color coating on the white coating. The keycaps are to prevent the clear buttons and red key from other color interference and keep their original color. Without the rubber keycaps, the light transmitting of translucent buttons will be affected.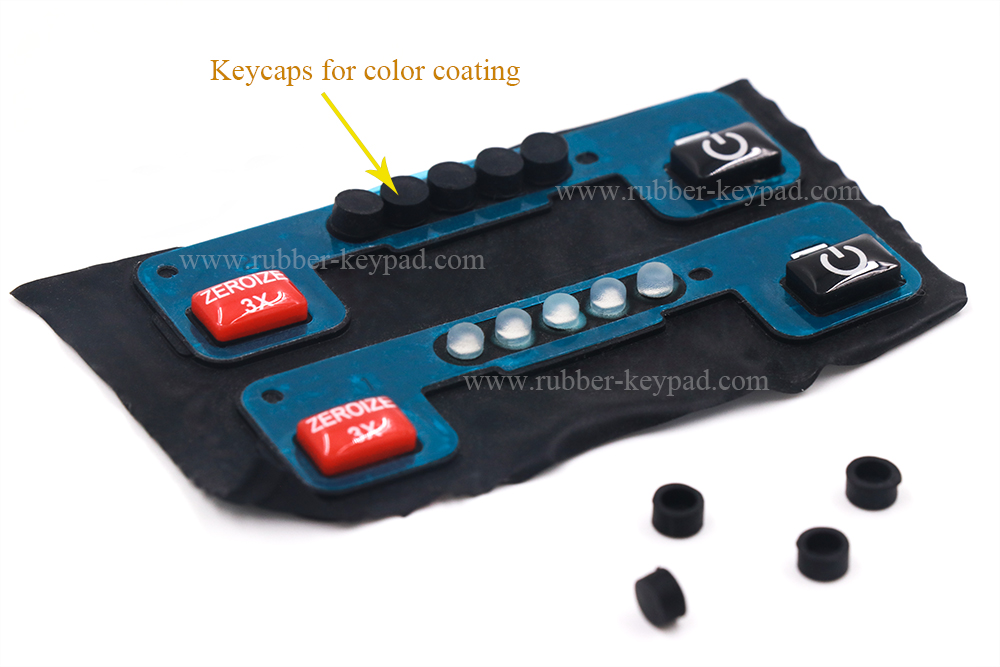 Step 3
Silkscreen print white character on the red silicone key and dry the ink.
Step 4

Laser engrave the white power symbol on the black button and laser etch a white window. Laser etching will erase the black color to display white graphic. These laser engraved white graphics are able to transmit light.
Step 5
Spray PU coating to protect keypad button surface color from wear. To make the red and black rubber key with crystal effect, we also need to do epoxy coating on these two buttons. Epoxy coating also can protect the printing characters and laser etching graphic from abrasion to extend the silicone keypad button lifecycle.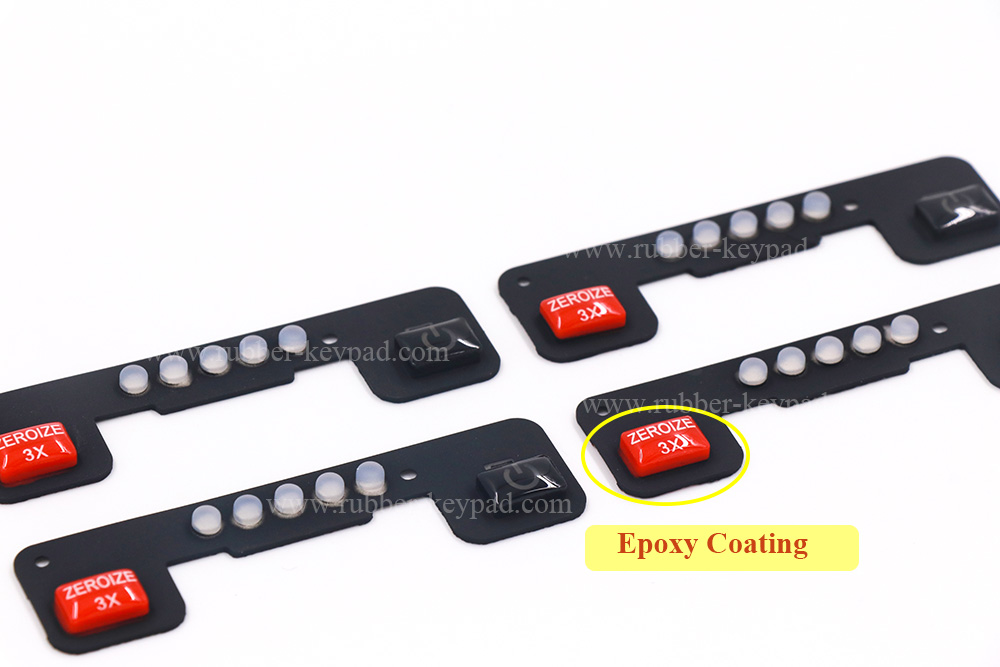 Step 6
Adhere 3M double side tapes to silicone keypad buttons and die cut the tape into keypad shape with die-cutting tool.