Epoxy Coating Rubber Buttons Design Guide
Views:63 Author:Jessica Hong Publish Time: 2019-02-19 Origin:Site
Epoxy coating rubber buttons are the keypad coated with transparent resin on the surface. Epoxy coating is made up with resin and curing agent. Epoxy coating can protect silicone button from chemicals corrosion and abrasion. Besides, rubber button pad surface will become crystal and beautiful. Silicone buttons become glossy after epoxy coated.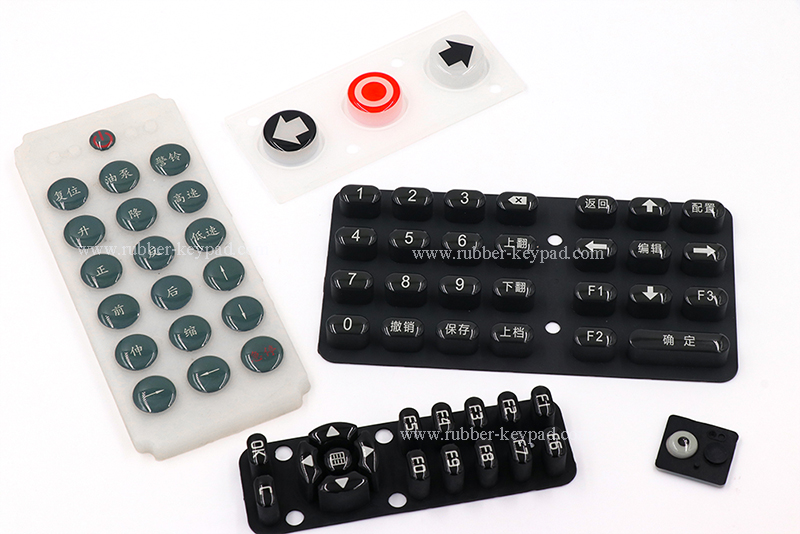 But the cost of epoxy coating rubber buttons is higher than other coating, because the reject ratio is higher than oil coating keypad or PU coating keypad, and because epoxy coating silicone buttons cann't be reworked. It is distinct when there are spots on the button surface, so epoxy coating rubber button switch should be produced in clean room to prevent dusts getting into the expoxy resin. When put the resin on button surface, we should be careful to prevent dust contaminating the resin, and prevent the resin from overbrimming button surface. Then drying the surface. A clear and crystal layer will form on silicone button surface.
When design epoxy rubber buttons, we should pay attention to two key points.

1. Add the height of epoxy coating to silicone button height.
Epoxy coating will increase the height of rubber button pad. Remember to decrease coating height when design the rubber buttons.

2. Delete the button radius and make sure silicone button is flat.
If there is radius on the edge of rubber buttons, epoxy coating may overflow from the radius, which will cause high rejection rate in silicone button switch production. Drying epoxy coating can also help rubber button have the radius.