How to Test Silicone Rubber Button Work Properly
Views:141 Author:Jessica Hong Publish Time: 2019-04-17 Origin:Site
Rubber Buttons manufactured in Xiamen Better need go through strict inspection process to test if the silicone button pad can work properly. Silicone rubber buttons includes button pad appearance inspection and rubber button mechanical function inspection. Silicone keypad button function inspection includes four procedures, keypad dimension test, actuation force test, key litetime test, rubber button surface abrasion test and button pad resistance test.
Rubber Button Dimension Test
According to customer keypad technical drawing and tolerance requirements, control the silicone rubber button dimensions within tolerance demands. If customers don't have button pad tolerance requirements, we will control the tolerance based on ISO3302-M2 standard.

Test instrument: 3D dimension measuring projector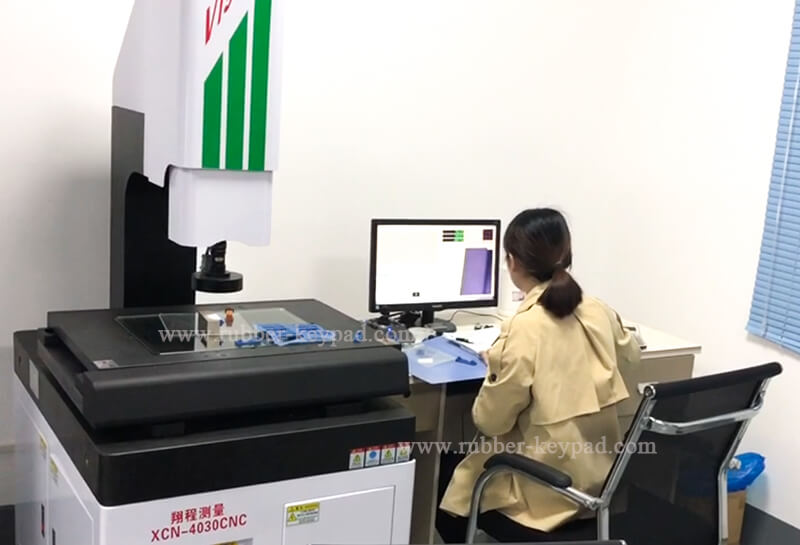 Rubber Button Actuation Force Test
Use silicone rubber button actuation force test machine to test the the force. Actuation force is maninly determined by rubber key button webbing thickness, button pad material hardness and rebound force, and surface coating. Our actuation force inspection accords to the standard:
100±(15-20)g
20±(20-25)g
150±(20-25)g
170±(25-30)g
200-300g±50g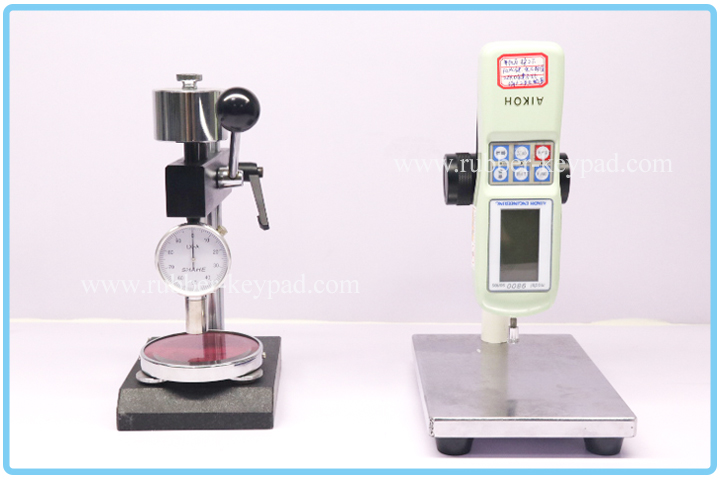 Rubber Button Contact Resistance
Use the avometer to test the button conductive part resistance. Read the data when data are stable. Generally the carbon pill resistance should less than 100 Ohms, transfer printing of conductive ink should be less than 250Ohms, silkscreen printing of conductive ink should be less than 500Ohms.
Rubber Button Key Lifetime Test
Rubber buttons need resist more than 500,000-time knocks. Stick the buttons on keylife time test machine board, and then knock the button keys at twice to five times one second. After 100 thousand knocks, button webbing can not wear out, and still can rebound properly. After 200 thousand knocks, the condutive parts can not fall off from the silicone button.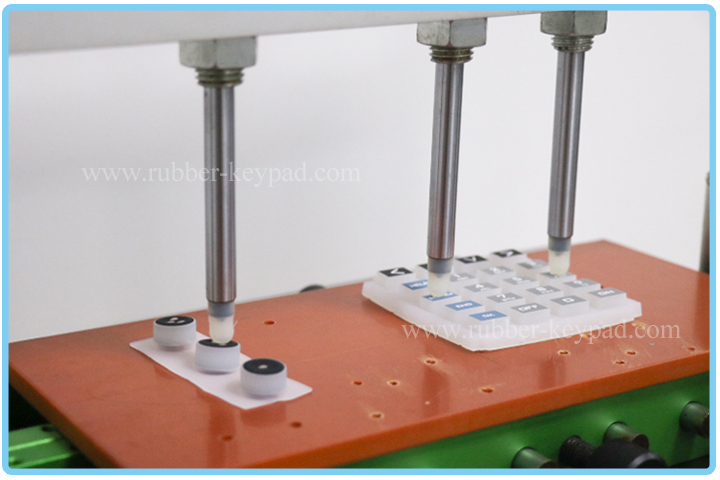 Rubber Button Surface Abrasion Test
To test the rubber button surface legends and coating, we need to place button pad on keypad alcohol abrasion machine. With clean cloth asorbing 75%-80% solubility alcohol and 500g load on key surface, abrase button at 1.5 circle/ second. Button legends and coating need resist at least 100 times circle friction.