Conductive Paint for Silicone Rubber Buttons
Views:524 Author:Jessica Hong Publish Time: 2018-08-31 Origin:Site
What is Conductive Paint?

What is Conductive Paint.pdf
Conductive paint is a kind of conductive composite material, in which conductive particles are dipersed evenly in the liquid solvent. Conductive paint is compose of carbon powder (graphite), gold powder, silver powder or copper powder mixing with the liquid resin. When the liquid is dry and solidified, the distances between conductive particles are shortened, so the free particles move in the direction of external eletric field to form the electric current. Conductive paint are widely used in integrated circuit, PCB, RFID, and silicone rubber keypad.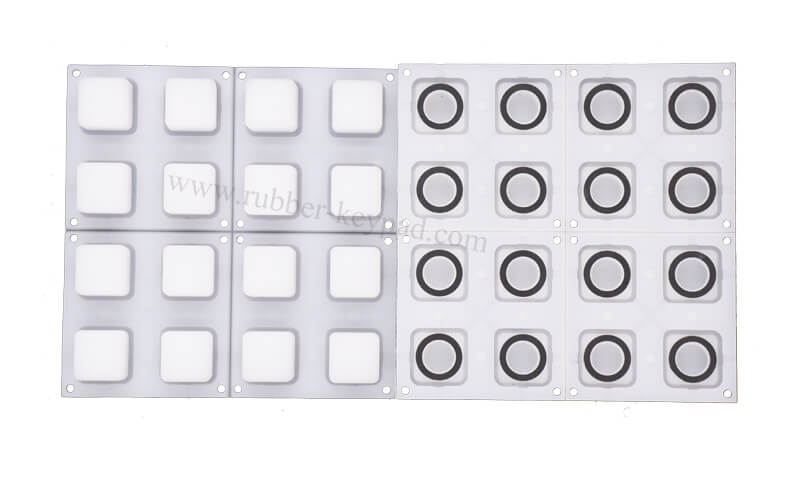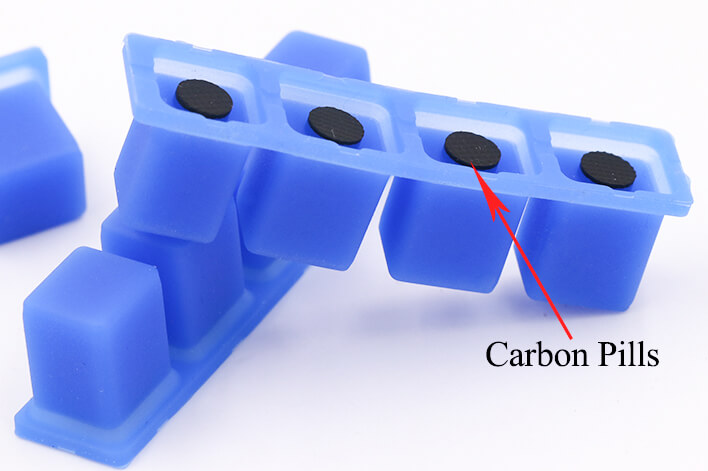 Conductive Paint Button Carbon Pills Silicone Keypad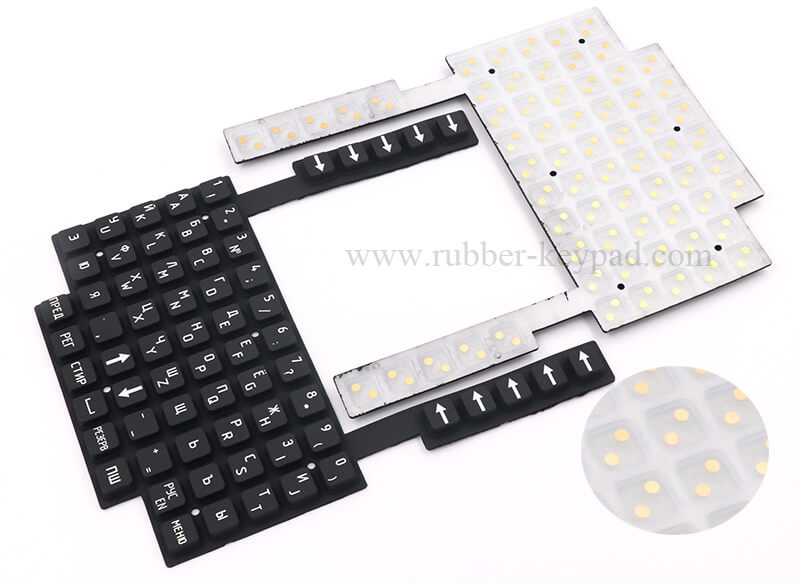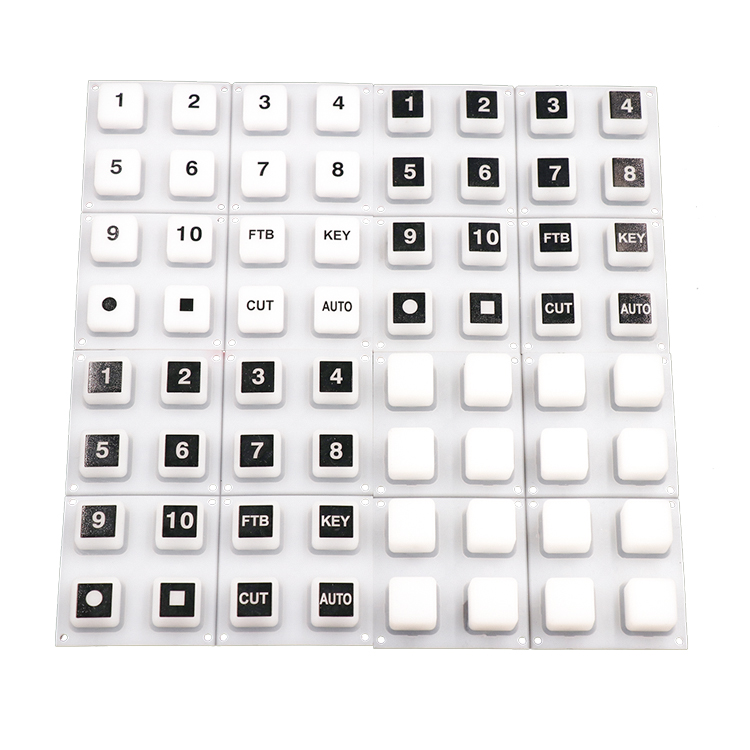 Golden Pills Conductive Rubber Keypad MIDI Silicone Button Keypad 4x4 is conductive ink printed.
Conductive paint buttons is one kind of condutive rubber keypad. There are three other common conduction ways in keypad production: carbon pills, metal domes, and golden pills. The conductive ink keypad processing is different from carbon pills keypad. We generally fix the carbon pills to rubber keypad during the keypad compression molding, but the conductive paint are printed to the keypad bottom after compression molding, which need the keypad position tooling, and printing tooling.
Conductive Paint Keypad Processing Carbon Pills Silicone Keypad Processing
What are the advantages of conductive ink printing keypad?
1. More economical and high effciency.

Compared to carbon pills keypad, conductive paint keypad can save more cost as the conductive ink printing technology is mature now and the conduction area can be made into different shapes. The carbons pill only have the regular shapes, round and rectangle. If other irregular shapes are needed, we need to customize the carbon pills with high cost. As the carbon pills should be placed to the rubber keypad during compression molding, the molding efficiency is lower than the conductive ink printing keypad.
2. Conductive paint keypad can be reworked.
These unqulified conductive ink printed keypad can be reworked by changing the ink printing tools or by handwork, which is infeasible for carbon pill silicone keypads or golden pills keypads.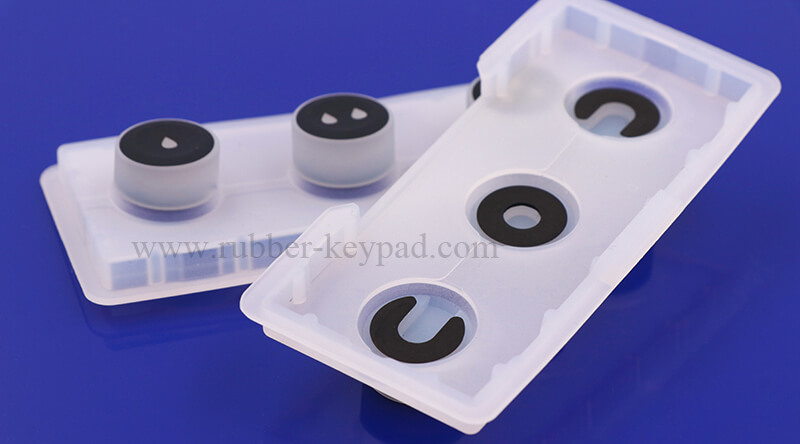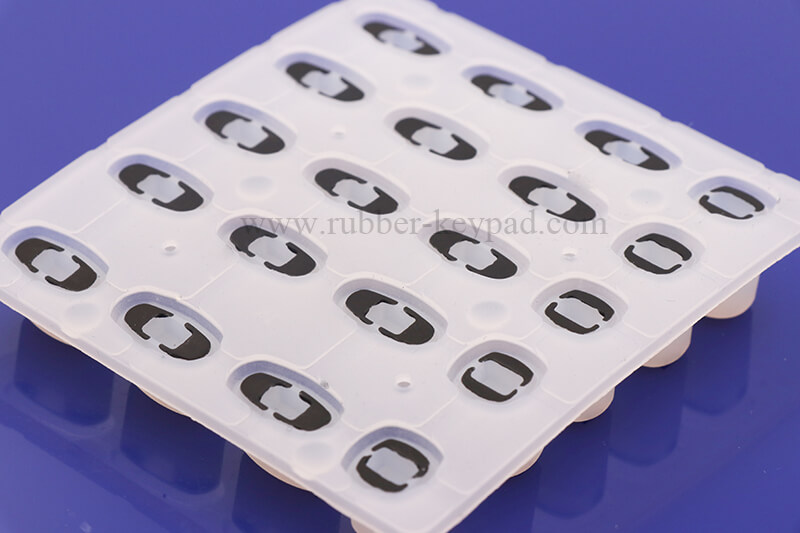 What are the disavantages of the conductive paint keypad?
1. Higher resistance.

The conductive paint has higher resistance than the carbon pills, metal domes and golden pills keypads. The resistance is generally 150-200 Ohms. To reduce the resistance of conductive paint keypad, we should choose high-quality paint containing the metal powder and make sure the precision of printing tool and thicken the printing layer.
2. Short lifespan.

The conductive ink printing is not durable as other condution ways, because the paint & ink layer would wear out after long-term usage. The resistance would gradually increase as the ink is rubbed off.