Custom Silicone Rubber Keyboard Guide
Views:216 Author:Site Editor Publish Time: 2017-07-24 Origin:Site
Rubber Keyboard & Silicone Keyboard
Rubber Keyboard & Silicone Keyboard, knowns as Silicone Rubber Keypad, Silicone Rubber Buttons, Silicone Keymats, which is made from elastomeric translucent & transparent elastomeric silicone rubber materials by compression molding, is widely used in industrial electronic products, medical device, machinery, consumer products as a reliable silicone switches.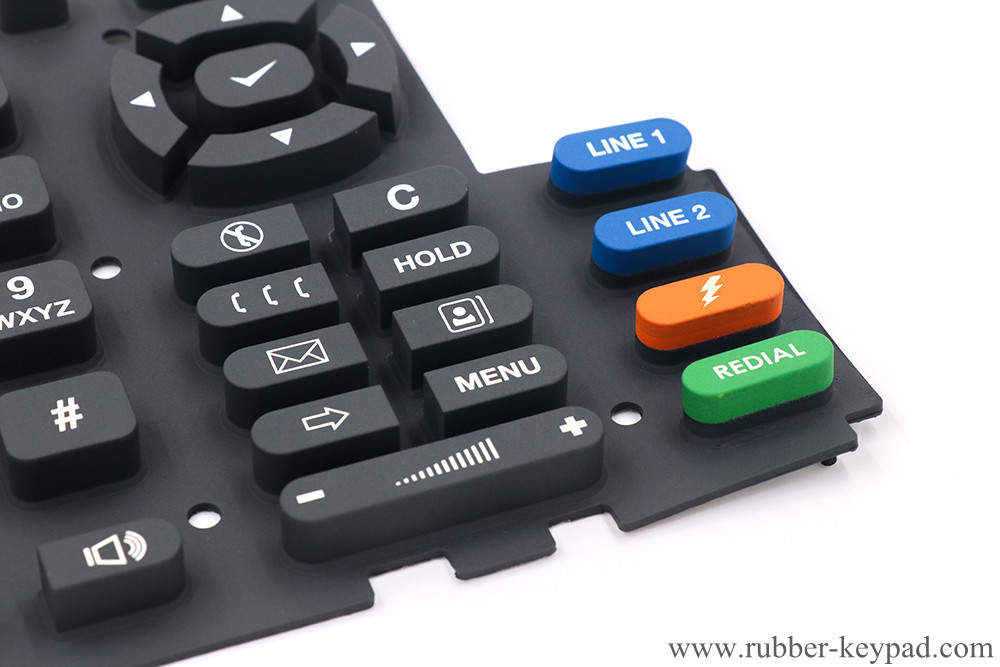 Silicone Rubber Keyboard Design Structure: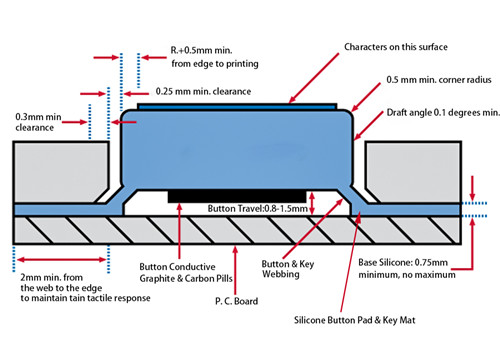 1. Silicone Rubber button,
2. Rubber button pads,
3. Silicon Rubber key & button webbing,
4. button travel
5. keypad conduction
Rubber Keyboard Surface Symbols & Icons:
2. Laser Cutting Legends for LED backlight
3. Embossed & Debossed Molded Symbols
Silicone Rubber Keyboard Conduction
1. Graphite Pads & Carbon Pills
2. Electrically Conductive Printing Ink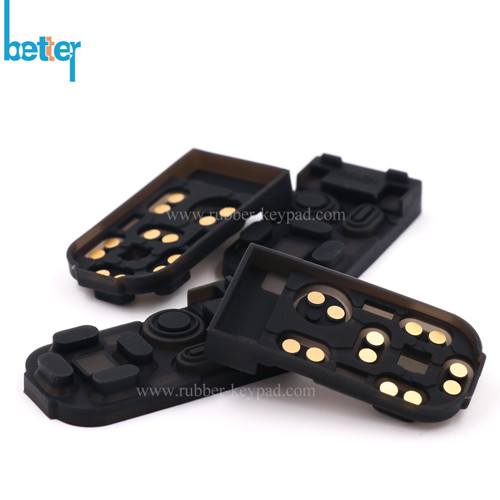 3. Metal Domes
4. Gold & Copper Pads
5. Nickle Pills
Silicone Keyboard Surface Symbols & Icons Protection
1. Rubber Keyboard with Matte Smooth Coating
2. Rubber Keyboard with PU Coating
3. Rubber Keyboard with Epoxy Coating
4. Silicone Keyboard with Plastic Button Cap
5. Silicone Keyboard with Metal Button Cap
Keyboard Design or Manufacturing Process Notes:
Silicone Keyboard Designers or Manufacturers, not only in consideration of actuation force and silicone rubber keypads structure like silicone buttons travels, keypad conductive materials, silicone rubber buttons webbing, but also should in view of silicone surface & materials demands, like symbols & icons, protective keyboard cover, silicone keypads materials choice & transparency, hardness, color spraying coating.


Silicone Keyboard & Button Travels:

The distance between silicone button's conduction tand PCB conductive layers
Commer Silicone Keypad Travel choose: 0.9mm - 1.2mm

Silicone Keyboard Actuation Force:
Mainly choose 90grams - 180 grams for good tactile feel & sense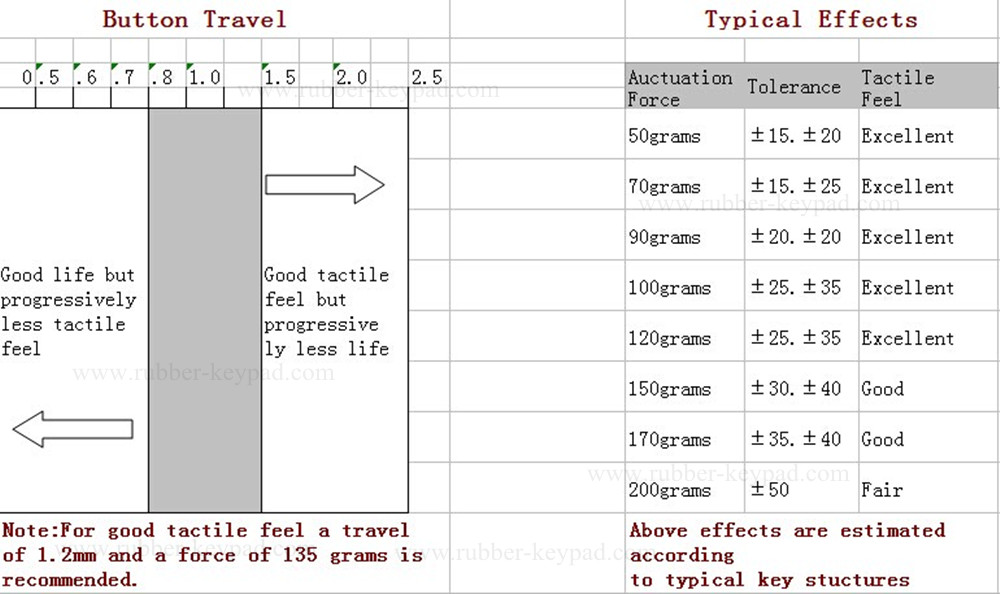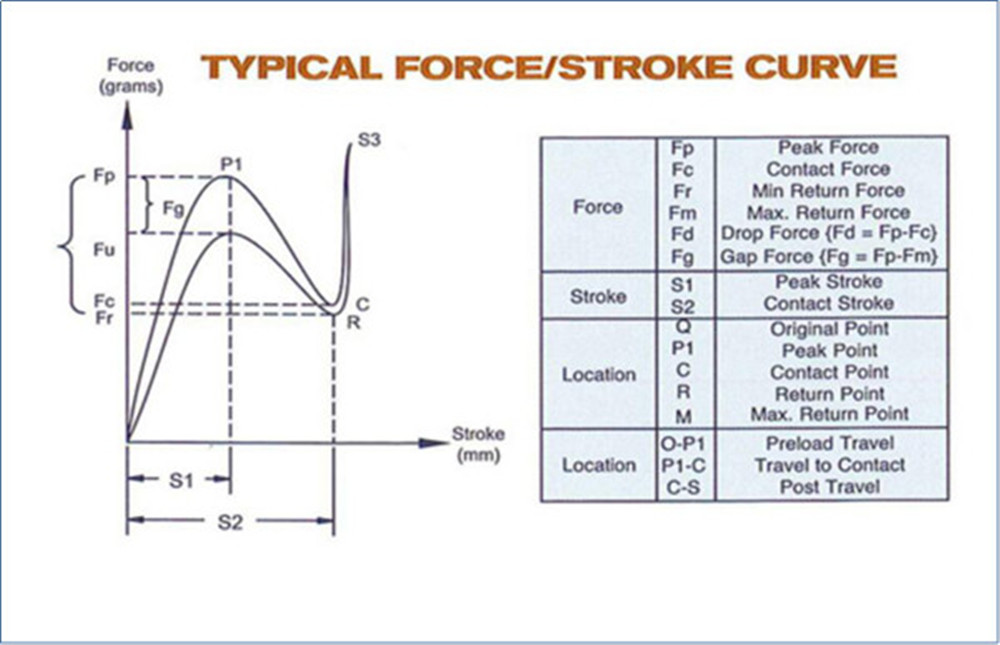 Silicone Rubber Keyboard Features
Epoxy Resin Coating for Keypad's Surface Protection Transfer Conductive Printing for Keyboard Conduction

PU Coating Silicone Keyboard Carbon Pill Silicone Keyboard
PU ink Coating for Button & Silicone Icons Protection
Black Carbon Pills for Keypads Conduction
Plastic Rubber (P + R) Keyboard Silicone Keyboard with Metal Pills
Silicone Rubber Keypad Glued Plastic Button Caps Copper & Golden Pills for Keypads Conductive



Different Hardness Silicone Keyboard Silicon Keyboard with Conductive Nickle Pills
Overmolding buttons + pads, Dual durometer Keypad
Keyboard Pill which mixed with conductive Nickle Powder
Fluorescent & Glow-in-Dark Keyboard Silicone Keypads with Metal Domes
Mixed Fluorescent powder with silicone before molded Backing Adhesive Metal Domes + Silicone Rubber Keyboar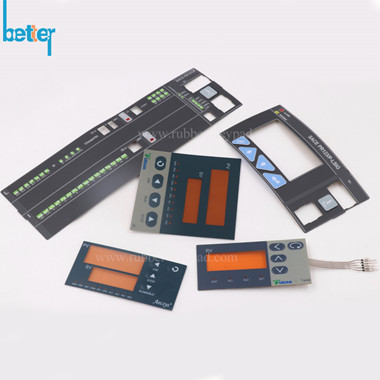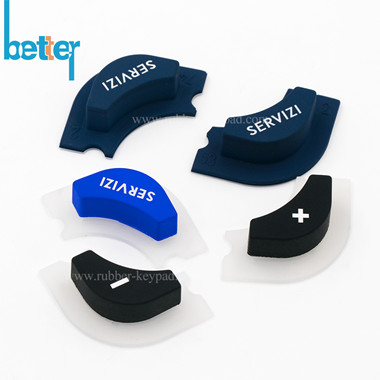 Membrane Keyboard & Switches Silicone Rubber Buttons
Xiamen Better Silicone Co., Ltd is specialized in designing and manufacturing all kinds and configurations of Silicone Rubber Products for a wide range of applications. Our silicone rubber keypad solutions combine excellent conductivity, reliability and long life span, which can meet all the environment's requirements and fit your individual needs.

Our company also make Silicone Rubber Compression Molding, Plastic Injection Molding, LSR injection Molding, and produce different kinds of elastomers silicone rubber components, plastic & liquid silicone rubber injection parts etc according to customers 2D & 3D design drawings or samples.