How to Design a Silicone Switch Button with Button Webbing
Views:151 Author:Site Editor Publish Time: 2020-03-06 Origin:Site
Silicone Switch Button with key webbing is conductive rubber switch, which includes conductive contact under the silicone buttons. Conductive silicone switch button includes many types, carbon pills silicone switch, conductive ink button pad, metal pills rubber switch buttons. They differ in the electrical resistance and the usage lifetime.
Functions of Button Webbing in Rubber Switch Button
Button webbing enable conductive rubber switch to have a good tactile response (or actuation force). Actuation force mainly depends on the button webbing thickness and angle. When press the silicone button witch, button webbing conductive parts contact the PCB footprint easily. Conductive rubber switch tactile response is different in different applications.
Most common rubber buttons require actuation force about 180-250g
For auto car rubber switch buttons, general conduction way is golden pills. Actuation force is larger than common keypads, about 300-400g.
About rubber switch button used in instrument, actuation force can be smaller, about 180g, and most are conductive ink buttons or carbon pills contact.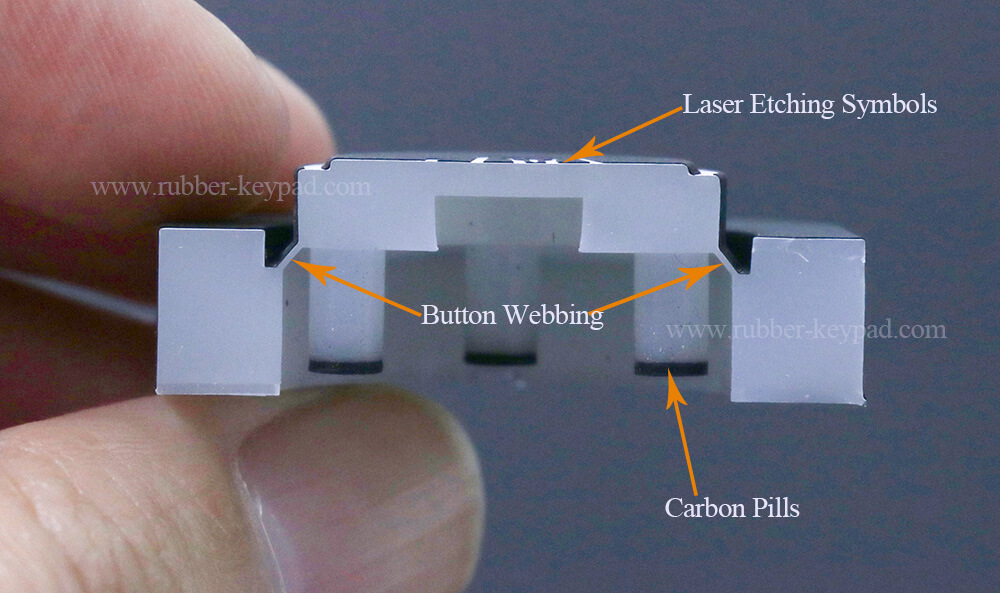 How to Design A Silicone Switch Button with Button Webbing
Button webbing in laser etching Silicone Switch Buttons is different from silkscreen printing keypad webbing.

The most common button webbing angle is 45°, and thickness 0.2-0.4mm. Larger angle and larger thickness will increace the actuation force.
Laser etching silicone buttons are made of transparent silicone to transmit light. Different color ink will be coated on the clear button surface. If the switch button require white symbols and black background, white ink will fisrt be coated on the button pad surface. Then coat black ink to the white ink. Finally laser etch to erase the black ink to show the white symbols and coat PU on rubber button pad to protect the symbols.
With two layers of color ink coating and PU coating on surface, rubber switch button becomes more rigid than transparent one. So actuation force will increase. It is recommended to reduce the button webbing angle (less than 45°) to reduce actuation force. If button webbing is still in 45°,it feels strenous when press the button switch down.
Conductive Silicone Switch Button Types
| | | |
| --- | --- | --- |
| Carbon Pills Silicone Switch | | Conductive Ink Rubber Push Button |
| | | |
| --- | --- | --- |
| Nickle Pills Rubber Push Button | | Golden Pills Rubber Button Switch |
Difference of Conductive Silicone Switch Button and Metal Dome Keypad Cover
Conductive silicone switch button geometry is more complicated than that of keypad cover with metal domes or tactile switch. Metal dome silicone keypad can a simple cover. But conductive switch button should includes button webbing. Button webbing enable the rubber switch to press and rebound more easily and flexiblly.