How to Laser Etch Clear Symbols on Backlit Silicone Keyboard
Views:139 Author:Jessica Publish Time: 2020-03-27 Origin:www.rubber-keypad.com
Backlit Silicone Keyboard also is known as backlight silicone keypad, laser etching rubber buttons or luminous rubber keymat. where LED or LCD lights transmit light to the keyboard symbols. Backlighting rubber keyboard is made of transparent silicone. Then different color ink is coated to the clear button pad surface. Finally symbols on silicone keyboard are laser engraved. So silicone keyboard is able to glow in night.
Laser etching technology will affect backlighting brightness of silicone keyboard. The following two keypads are engraved by two different suppliers. We can find that one keyboard white symbols are dim, but white symbols another keypad symbols are more clear and bright.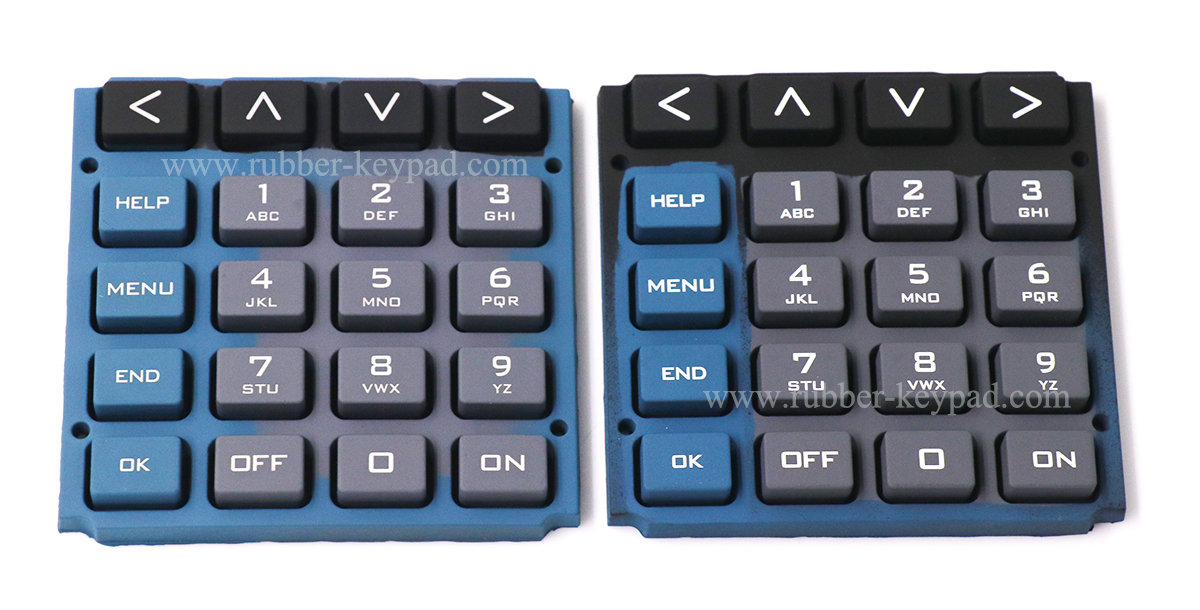 Comparing these two laser etching silicone keyboards in dark environment, we can find backlight effect 1st keyboard is not good as 2nd silicone keyboard. The second one is with stronger backlighting.
| | | |
| --- | --- | --- |
| Backlight is dim. | | Backlighting effect is good. |
How to Laser Etch Clear Symbols on Backlit Silicone Keyboard
Backlit Silicone Keybord production should be in clean workshop. Especially, color coating and PU coating should be in clean environment. If not in clean enviroment, dust will stick to the silicone keypad surface and be mixed into color ink. When the transparent silicone keyboard is coated with the unclean color ink, raised dots will occurs on finished backlit keyboard. These dust dots cause cause imperfect texture on rubber keyboard surface.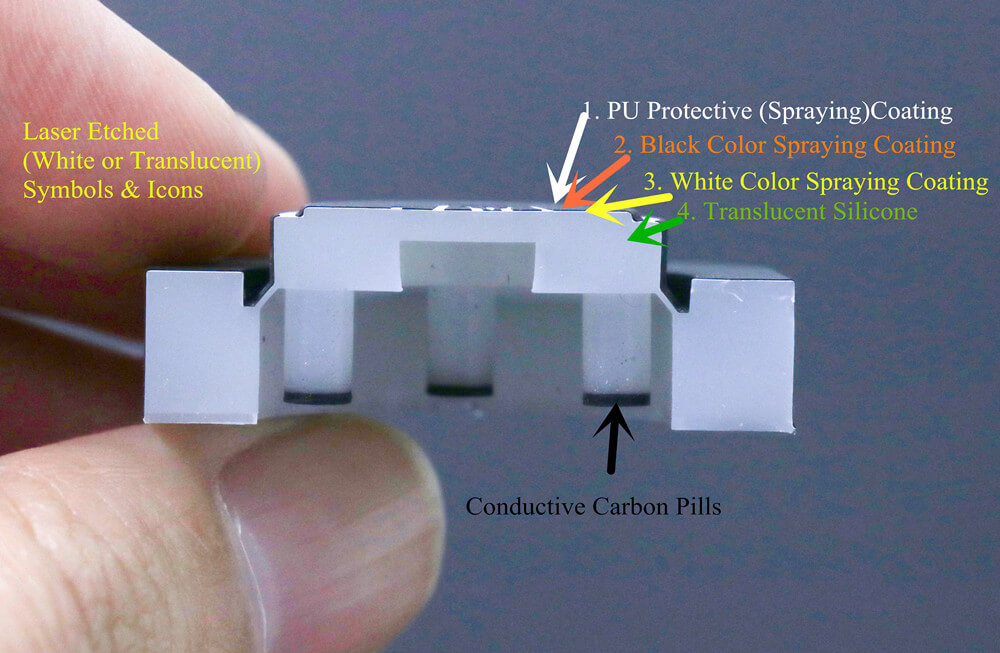 When laser etching silicone keyboard, we need to control the etching depth of backlit symbols. With shallow laser engraved symbols, keyboard backlighting will be dim. If the symbols are too deep, original symbol color will disappear. So engraved depth of symbols should keep its original color, but not affect keyboard illuminated affect.
During laser etching, color ink powder generate on baclight silicone keyboard surface when the background color coating is engraved to show the symbols. We need to erase the powder quickly with alcohol cloth to assure a clean appearance. Not erasing the powder in time, rubber keyboard surface will become dirty and dark.
After laser etching, backlight silicone keyboard need to be sprayed PU coating to protect symbols. PU coating can keep surface from abrasion.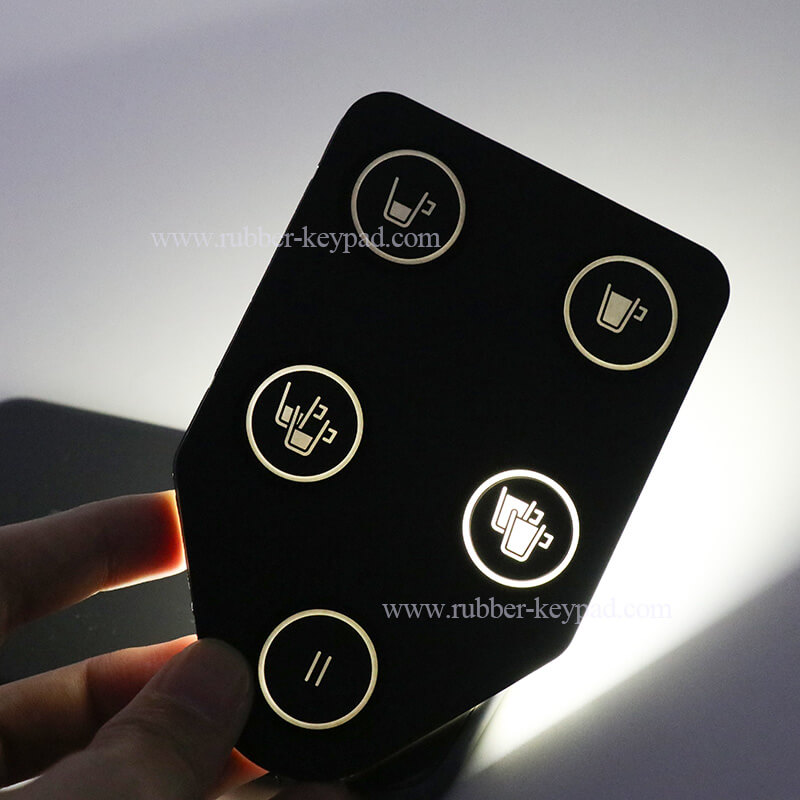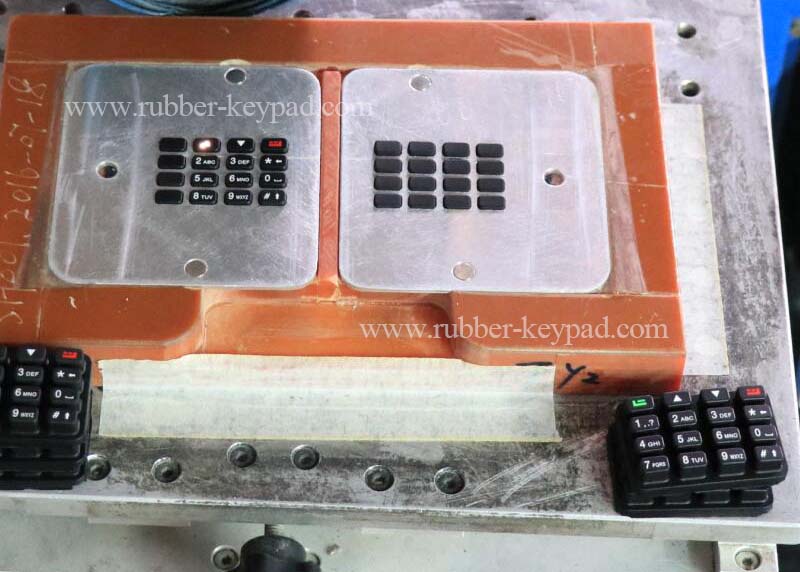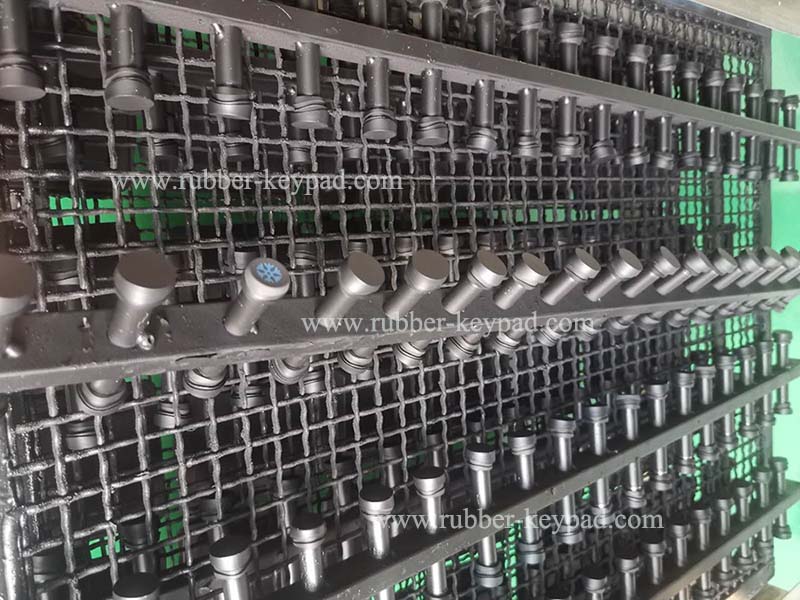 Position Tools for Color Spraying on Backlit Rubber Buttons
This tool is used to spray color evenly on the side walls of laser etching buttons to prevent light leaking from side wall.