What Does Pu Coating Mean
Views:116 Author:Site Editor Publish Time: 2018-10-24 Origin:Site
What Does Pu Coating Mean?
This Pu Coating,is a kind of high performance polyurethane spray ink with thermosetting and single component.
Features: strong adhesion, smooth, good abrasion resistance, low temperature curing, transparency, high weatherability, good chemical resistance, excellent applicability, commonly referred to as poly coating, is used in virtually all industrial markets to provide a smooth durable finish that has superior resistance to corrosion, abrasion, and chemical exposure. PU spray ink are normally used to topcoat high build epoxy and custom silicone rubber keypad(silicone rubber buttons) .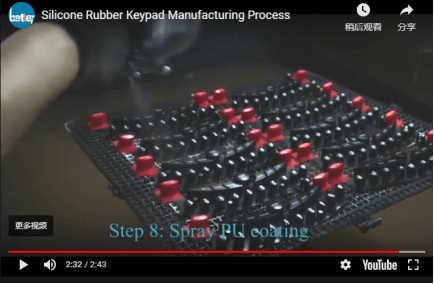 Pu Coating Application scope:
Silicone rubber key/housing for mobile phones, telephones, laptops, fax machines, copiers, household appliances and remote controls.
Pu Coating Appearance agent :
A: light milky white thick body B: colorless transparent liquid C: colorless transparent liquid

Pu Coating Shelf-life:
airtight store in a cool and dry ventilated place (storage temperature - 5 ~ 35 ℃, humidity is 85% or less), waterproof, leakproof, sunscreen, anti high temperature, away from the fire.Ink storage period is 6 months, please be sure to use up within half a year, so as not to affect quality.
application: 1. After opening the tank, PU spray ink should be fully stirred evenly.
2. After A/B/C is mixed, the effective use time is 4 hours. Please estimate the usage amount in advance to avoid unnecessary waste.
3. Spray must keep good for the environment, that suggests to use clean processing preparation, temperature control at 20 ~ 30 ℃, humidity control in the 60 ~ 80%.Too much dust will lead to increase of defects, too low temperature will lead to poor leveling and lower adhesion, excessive humidity will easily lead to film shrinkage, too low humidity is easy to cause electrostatic safety hazards.
4. The flame (or discharge) treated silica gel sheet shall be used up within 30 minutes, and the flame (or discharge) treatment shall be re-applied after 30 minutes.
5. The load on the elastic wall increases after PU spraying, and increases with the increase of film thickness;There is a decrease in the elongation of silicone rubber. If there is any requirement in these aspects, please consider the construction method and spraying thickness as appropriate.
Safety: 1. The product shall be used under good ventilation to avoid massive human inhalation and skin contact during construction.
2. Use the product carefully. Please pay attention to safety matters before use and during use.In addition, the safety regulations prescribed by the relevant state or local government should be followed.(for detailed safety guidelines, see corresponding MSDS)